About Us
CO2 / Carbon Dioxide / R744 Refrigeration Training for Technicians
Garden City Ammonia Program
2405 E. Fulton Plaza, Garden City Kansas, 67846
Phone: 620-271-0037   Email: Ammonia@pld.com
Hands on Labs for Ammonia Refrigeration / CO2 Refrigeration / and Steam Boilers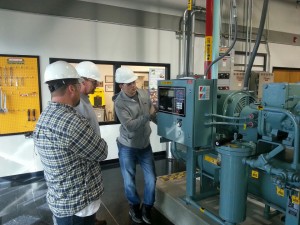 Randy Williams and the GCAP CoolCast team, provide education for the industrial ammonia refrigeration operator for efficiency, safety, and compliance. Our spectrum of ammonia refrigeration training is customized toward the quick starter with no experience to the seasoned operator.  A well trained operator should know how to maintain and operate the plants equipment in the most efficient manner while keeping safety in mind. Demonstrating competence and knowledge as well as best engineering practices. We supply training for over 400 different companies through GCAP. We have been at our new facility for over 8 years with the newest technology in the industry for training. We believe keeping up with our industry's technology is the key to our success when we promote GCAP's hands-on training labs.

Our Mission Statement:

 Enhance the technology, efficiency, safety, and educate the industrial technician through commitment.

We at GCAP thank you for investing your time in our training program.  When you attend a GCAP course you are joining a family of over 8,500 Ammonia professionals throughout the world.  Please always think of the GCAP team as a resource at your disposal when you have any questions about PSM implementation or any Industrial Refrigeration topic.
Without our Professional Team, none of this would be possible.